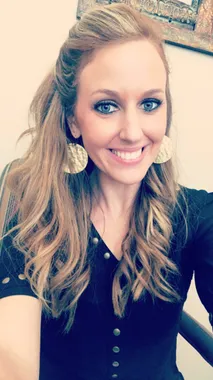 Hi there! My name is Ashley Cook Rovira and I have been practicing as a therapist since 2010. I graduated from the University of Texas at Austin in 2008 with a Bachelor of Science degree in Human Development and Family Sciences. From there, I decided to further my education and attended Kansas State University and obtained a Master's degree in Marriage and Family Therapy. I am fully licensed in the State of Texas as a Licensed Marriage and Family Therapist (#201730), a Licensed Professional Counselor (#68241), and a Licensed Chemical Dependency Counselor (#11707). Since graduating with my Master's degree in 2010, I have worked in a multitude of different settings, including residential dual-diagnosis treatment (substance abuse and mental health disorders) for adolescents and young adults, residential dual-diagnosis treatment for only adults, acute inpatient hospitalization, intensive outpatient treatment, and private practice. I specialize in trauma, codependency, anxiety, shame-reduction, grief/loss, but also have extensive experience working with addiction/substance use disorders. While these are my main areas of focus, I have also had extensive training and experience working with adolescents and adults presenting with various mental-health issues, including anxiety, depression, bipolar disorder, personality disorders, schizophrenia, both on an individual and family/systemic level to help identify specific individualized solutions to help cope with major as well as the typical challenges that life inevitably brings our way. Additionally, I have worked with a multitude of families struggling with various difficult seasons in life from healing from infidelity to parenting or various dysfunctional patterns that have resulted from various catalysts for the individuals that make up the family system. Finally, I also offer consultations with other mental health professionals in addition to helping the "lay/non-clinical" navigate how to find and choose the "right" therapist for them.
Currently, I am now working under my new practice "Innovative Trauma Therapy". Please see https://www.innovativetraumath... for more information. This new practice has been a dream of mine for several years, which is to provide evidence-based, trauma-informed care for clients who have experienced trauma in some capacity, whether it be acute or chronic. In addition to serving clients struggling with the shame associated with trauma, my goal is to have a well-versed training facility to educate other clinicians who are either first starting out or would like to develop more education and experience by becoming well-versed in trauma-informed care backed by the latest evidence-based treatment modalities..
On a personal note, I am happily married in a "blended family" and have three sons that are 2, 12 and 20-years-old. I can tell you that as with any family system, ours is no different in dealing with the challenges and blessings that come along with raising children, especially given that we deal with each of the stages of parenting on a daily-basis. In our free time, we are often found doing something fun and active as a family, including coaching/engaging/attending various sporting events, particularly flag football, soccer, and basketball. As a family, we are each individually and collectively devoted to working consistently on bettering ourselves, which for us is showing up authentically in order to be honest in what challenges we face in addition to also breaking the narrative of presenting ourselves to be the "perfect family" that has it all figured out. However, despite the "good, bad, and the ugly", we believe it is important to be real so that we practice what we preach by hopefully modeling to individuals, couples, and families that it is okay and encouraged to also let go of the façade of trying to be "perfect" and instead to just show up authentically and accepting for one another.